Editor's Note: A version of this story appears in CNN's Meanwhile in the Middle East newsletter, a three-times-a-week look inside the region's biggest stories. Sign up here.
When Saudi Arabian club Al-Hilal reportedly planned a $1.1 billion bid to sign French soccer superstar Kylian Mbappé – including $332 million to his club, Paris Saint-Germain (PSG), and an eye-watering $775 million salary packet to the World Cup winner for just one year – it was slammed by critics as sportswashing.
Mbappé might have said no to the offer in July, but a month later, Neymar Jr. said yes to Al-Hilal, as the Brazil star moved from PSG for a transfer fee of around $98.5 million (€90 million) plus add-ons, according to multiple reports.
In a record-breaking transfer window, Saudi Pro League (SPL) clubs spent close to $1 billion, acquiring 94 overseas players from Europe's major leagues – France's Ligue 1, Spain's La Liga, Italy's Serie A, Germany's Bundesliga and the English Premier League – according to Deloitte.
Despite the Arab nation's poor human rights record, Saudi Arabia's spending spree to turn its domestic soccer league into a star-studded, bona fide competition shows the seriousness of its ambition.
Saudi Crown Prince Mohammed bin Salman says he doesn't "care" about the country's investment in sport being described as sportswashing.
"Well if sportswashing is going to increase my GDP by one percent, then I will continue doing sportswashing," MBS said in an interview with Fox News which aired Wednesday.
Pressed on if he was bothered by the use of the term, MBS continued: "I don't care. I have one percent GDP growth from sport, and I am aiming for another one and a half percent. Call it whatever you want, we're going to get that one and a half percent."
Saudi clubs, several of which have been taken over by the nation's sovereign Public Investment Fund (PIF), have already attracted some of the biggest names in the sport.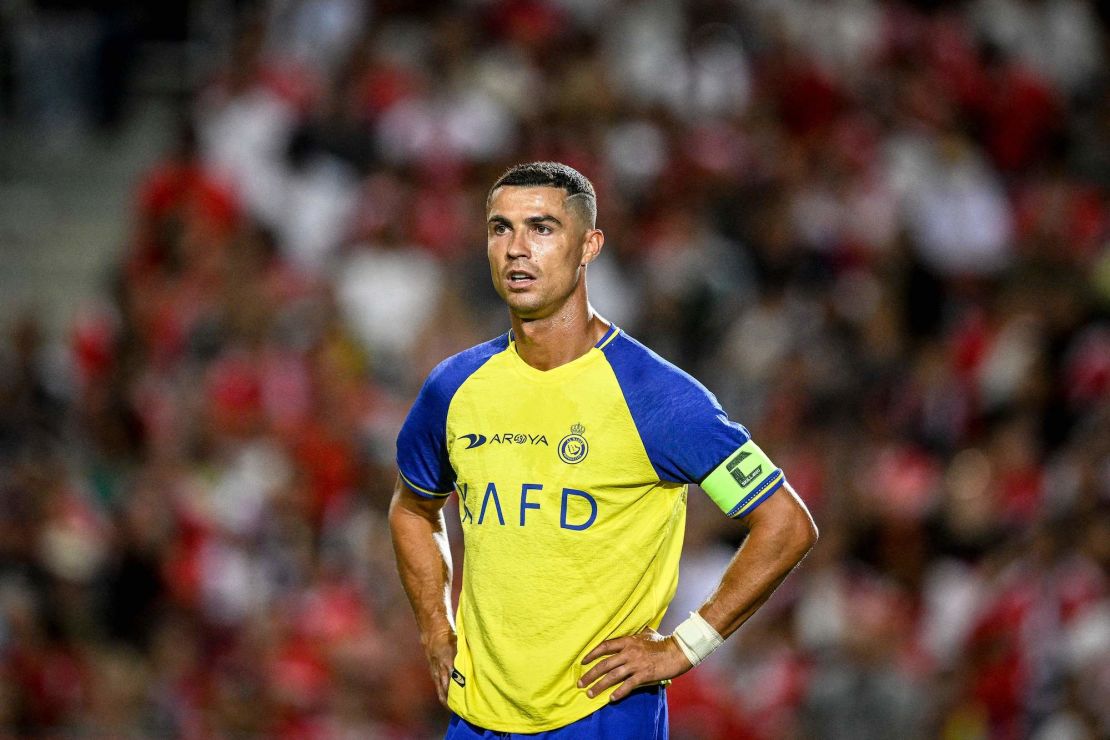 By attracting some of the world's biggest stars to the Gulf states, the SPL wants "to drive competitiveness on and off the pitch," though it's keen to emphasize that these overseas players will help develop "young Saudi talent."
During this summer transfer window, the government-controlled PIF increased the cumulative value of these four clubs nearly five times, making them the most valuable in the country, according to estimates by the sports website Transfermarkt.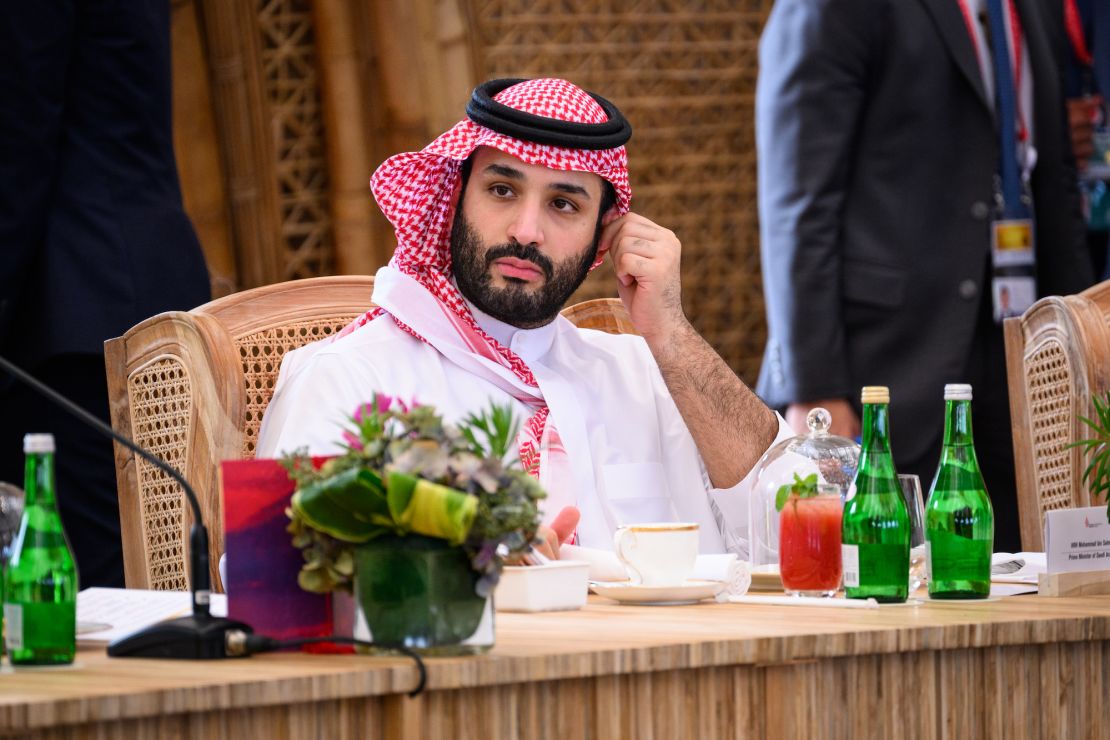 Plenty of other leading stars have eagerly said yes to the SPL, notably 2022 Ballon D'Or winner Karim Benzema joining Al-Ittihad at the end of his contract with Spanish soccer giant Real Madrid.
As the European transfer window came to a close, the four PIF-owned teams have spent nearly $900 million (€835.1 million) on buying elite international players, Transfermarkt data shows, which ranked them in the top 20 clubs in the world by transfer expenditure, alongside soccer giants from England, France, Germany, Spain, and Italy.
Al Hilal alone paid more than $378 million (€353 million), more than PSG and Arsenal, making it the second-largest spender this year.
The newly acquired players join five-time Ballon d'Or winner Cristiano Ronaldo, who has a two-year contract with Al-Nassr where he will earn a staggering estimated $200 million a year, according to Saudi state-owned media, currently making him the world's highest paid soccer player.
As of today, 21 of the most expensive soccer players in Saudi Arabia by transfer fees – all international stars – play for one of the PIF-owned clubs.
Despite the financial outlay, the SPL is remaining deliberately tight-lipped about the specifics of its financial gamble, with chief operating officer Carlo Nohra confirming to CNN Sport that it was "not in [the SPL's] competitive advantage" to report the salaries offered to players and coaches.
The PIF has $777 billion in assets under management, according to its most recent filing, with ambitions to top $1 trillion within a few years. In 2021, it acquired English soccer club Newcastle United, before focusing on investments at home. The club is now also among top spenders on players.
Saudi clubs not owned by the PIF are also splurging on big-ticket players, with former Liverpool captain Jordan Henderson, 33, offered an eye-watering salary of $870,000 (£700,000) per week, according to multiple reports, in an estimated $15 million (£12 million) transfer from Liverpool to Saudi team Al-Ettifaq.
In a recent interview with The Athletic, Henderson said those numbers "just aren't true."
"Essentially, the signal is 'We mean business,'" Simon Chadwick, a professor of sport and geopolitical economy at SKEMA Business School, told CNN.

"We've got so much money that for a player who is … coming towards the end of his career, we can afford to pay him 700,000 [GB pounds a week], or whatever it is that he's being paid, and still have Cristiano Ronaldo and still be in the market for other players as well," Chadwick said, describing Saudi's approach to becoming a sporting superpower, adding that the sky is the limit in terms of cost.
Saudi's love of soccer
Saudi Arabia follows in the footsteps of several other countries – including China and Qatar in investing large sums of money to try and turn themselves into soccer powerhouses.
It remains to be seen whether Saudi's turbocharged investment will have a lasting impact or resemble something like a costly rebranding effort.
The Saudi national team has been to multiple World Cups, and the country's clubs have won multiple Asian titles. Saudi's victory over Argentina during last year's men's World Cup was hailed as one of the greatest upsets in tournament history, with the country's King Salman bin Abdulaziz Al Saud granting a national public holiday in recognition of the win.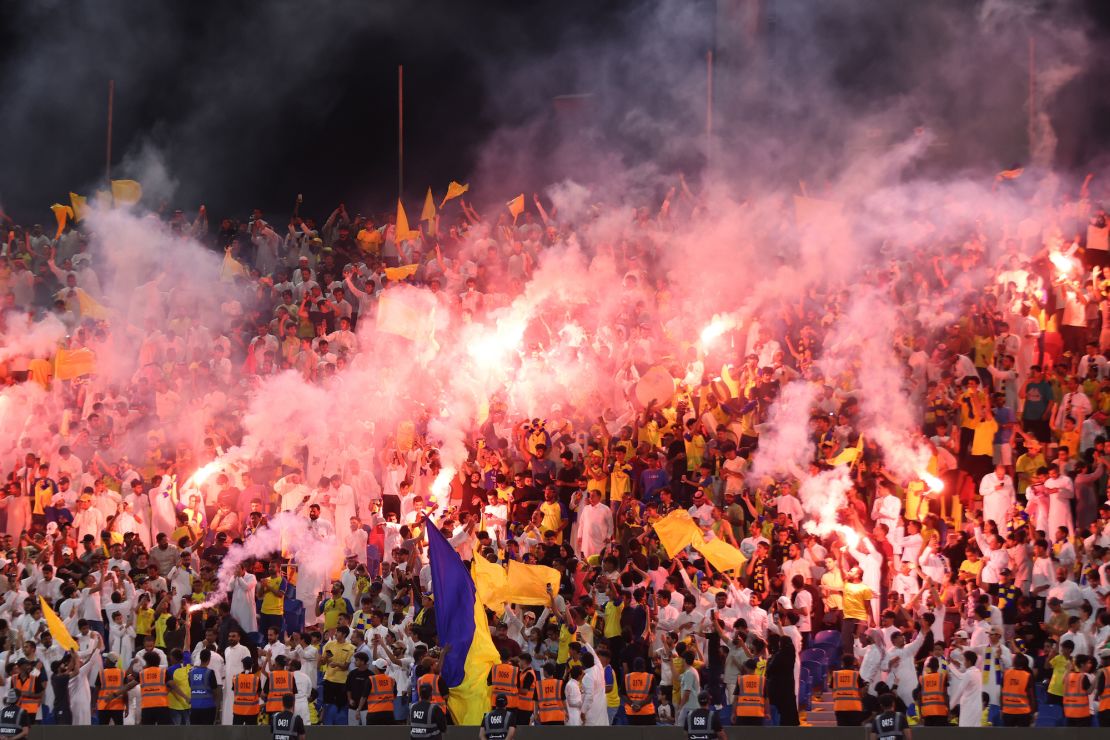 Club games can attract huge crowds in the Middle Eastern nation. "For example, Al-Ittihad against Al-Hilal, you're talking about drawing crowds of 40, 50, 60,000 people, these are games that are comparable in size to Chelsea vs. Arsenal, Manchester United vs. Manchester City," Chadwick said.
Buying star players, some arguably past their prime, also provides an easy win for Saudi teams, according to Kieran Maguire, co-host of "The Price of Football" podcast.
"From the Saudi authorities' point of view, they're getting a ready-made product. Everybody's heard of Benzema. Everybody's heard of Cristiano Ronaldo and so on," Maguire said.
Saudi Arabia's lofty sporting ambitions don't end with the SPL or Newcastle United. The country is hosting the 2023 FIFA Club World Cup and is bidding to host the 2027 AFC Asian Cup.
Several media reports also indicated that the Gulf kingdom was considering launching a bid for the 2030 FIFA men's World Cup alongside Greece and Egypt – although it is reportedly mulling pulling its candidacy.
Meanwhile, the Royal Spanish Football Federation (RFEF) has agreed to a contract that will see the Spanish Super Cup played in Saudi Arabia until 2029, a deal that will earn the Spanish governing body between €35-45 million ($38-48 million) a year.
Appealing to the youth
Saudi Arabia has a very young population: the country's most recent census revealed 32.2 million people live in the country, nearly 42% of whom are foreign nationals – and 51% of the Saudi population are under the age of 30. Of this populace, Saudi authorities say that over 80% play, attend or follow soccer, the national sport.
Chadwick explains that Saudi Arabia's government is concerned with the prospect of its younger members of society becoming radicalized or an anti-government sentiment bubbling up like that of the Arab Spring – and looks to offer its population a thriving soccer industry to keep it placated.
Though the soccer industry generates employment, revenues, export earnings and inward investment, "what is just as significant is the security of the royal family," Chadwick adds.
The Arab Spring, a wave of pro-democracy protests that washed over the Middle East and North Africa in 2011, achieved mixed results. Four Arab dictators in Libya, Yemen, Egypt and Tunisia were toppled, offering a brief sense of victory for protesters, but, since then, new wars have prompted a retreat of popular movements in the region.
Meanwhile, failed uprisings in Bahrain and eastern Saudi Arabia were followed by years-long crackdowns and a continuing civil war in Syria.
"What we're beginning to see in Saudi Arabia right now is the emergence of a new social contract. And the social contract essentially is catering for the needs of the Gen Z population," Chadwick said.
"You want Ronaldo? You got him. You want some of the best football teams in the world? You got them. You want the World Cup to come to Saudi Arabia? You got it … But don't question us," Chadwick explained.
Maguire agrees, noting that investing in soccer "can be seen as part of a much broader socio-economic plan, run by the Saudi authorities."
At the same time, there has been "a significant increase in the number of Saudi Arabians detained by the authorities, for example, for posting adverse comments on social media about the country" this year, Chadwick told CNN.
Human rights group Amnesty International told CNN that it has documented a rollback in human rights in Saudi Arabia, including an escalating crackdown on freedom of expression and an increased use of counterterrorism and cybercrime laws to silence dissent. Between 2022 and 2023, the organization said it has documented an increase in criminal prosecutions compared to previous years.
In 2022, Amnesty reported the highest number of annual executions in the country in 30 years, with 196 people killed.
"Reputation is important in terms of attracting foreign investment, and … Mohammed bin Salman, as much as he has significant financial muscle, needs foreign investing for the realization of his diversification," James Dorsey, the author of the syndicated column and blog, "The Turbulent World of Middle East Soccer," explains.
Saudi Arabia is the world's biggest exporter of crude oil, and nearly two-thirds of its income still comes from selling fossil fuels. But with oil prices regularly dipping below what the Gulf state needs to balance its budget, it has focused efforts on trying to bring in investment from abroad along with its efforts to raise oil prices.
Projections indicate the kingdom has around 20 years to diversify its economy to ensure it is more resilient, according to Chadwick – not least to fund its Vision 2030 projects, including the $500 billion Neom city, a 106 mile-long linear city called The Line and a futuristic plan to revamp the capital.
"Part of the grand vision of Mohammed bin Salman, looking forward to 2030, he does have his desire to make Saudi Arabia less dependent on natural resources to look at a post-fuel economy [involving] tourism, entertainment. If Saudi Arabia can become a hub for major sporting events, then that's a way of attracting interest to the country," said Maguire.
CNN has reached out to the Saudi Ministry of Sport for comment on allegations that the kingdom has been rolling back human rights, and investing in soccer as a way of "sportswashing" its image.
In response to previous criticism about Saudi Arabia's purported "sportswashing," the kingdom's sports minister Prince Abdulaziz bin Turki Al-Faisal said: "People that don't know Saudi Arabia, have never been to Saudi Arabia, go out and talk about it as if they've lived there for 30 years, 40 years. So I always tell people, come to Saudi. Come and see Saudi.
"See what it is, see the people, meet the people. Look at what the country is doing for the future of the people in Saudi, then you can criticize as much as you like," he added.
Lack of transparency: Saudi threatens new systems of governance in sports
Saudi Arabia has already disrupted the golf industry and, with soccer, Maguire told CNN, "they feel that they can do that probably on a smaller scale, but perhaps, ultimately, to generate more interest in terms of eyeballs if they go down the same route."
In 2021, the Saudi government-controlled PIF bankrolled LIV Golf, reportedly at a cost of $2 billion, attracting many of the sport's top players away from the US-based PGA Tour and Europe-based DP World Tour by offering big dollar prize money, with PGA Tour board member Jimmy Dunne raising fears that they might end up "owning golf."
Earlier this year, the US-based PGA Tour announced it was set to partner with the Saudi-backed breakaway LIV Golf, ending a feud that has dogged the men's professional game for the past year, with Dunne warning that sport's governing body had no choice but to reach the truce to retain some measure of control.
"They have an unlimited horizon and an unlimited amount of money," he said at a contentious Senate hearing on the truce between the two tours.
When it comes to soccer, Aleksander Ceferin, president of European football's governing body UEFA, has dismissed the competitive threat that the SPL could pose.
"As far as I know, Mbappe and [Erling] Haaland don't dream of Saudi Arabia. I don't believe that the best players at the pinnacle of their careers would go to Saudi Arabia," he said last month.
"When people talk to me about the players who went there, nobody knows where they're playing."
Liverpool manager Jurgen Klopp took a different view, referring to the fact that the Saudi summer transfer window stays open after European clubs see theirs close: "I don't know how stable it is and I think the next two weeks will show how much of a challenge it is because whatever happens there, no one can react anymore.
"I don't know where it will lead to but it feels rather like a threat or a concern than not because I can't see how we really deny it in these moments, what can we do?" he added.
Still, the new SPL director of football, Michael Emenalo, says what Saudi soccer is doing is "no different from what the Premier League have done."
"There was a time when it was all about Italy. There was a time when it was all about Spain. What we're looking for in the industry is an opportunity to compete, and to compete on an even scale and to improve upon whatever exists in the industry," said Emenalo in a press release sent to CNN.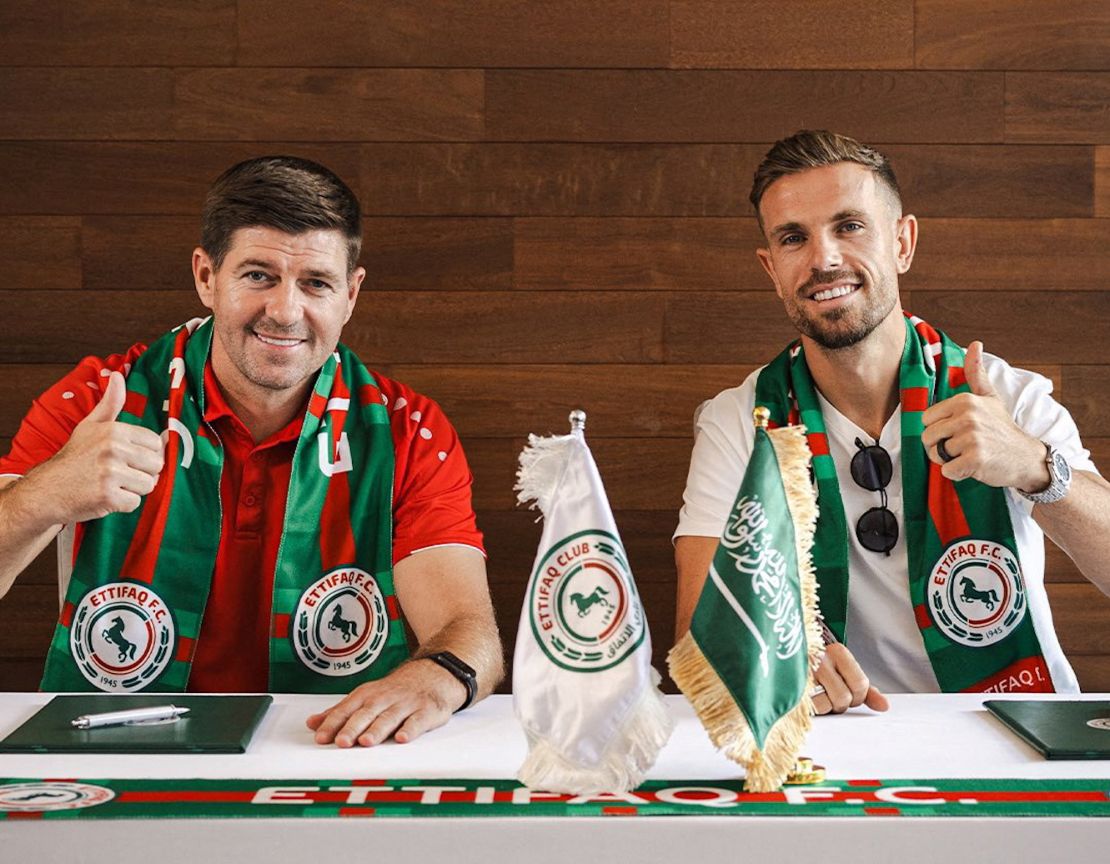 New Saudi Pro League Chief Operating Officer Carlo Nohra told CNN that there is logic behind the league's strategy of money is no object to lure international stars.
"We can't expect to be paying market value to entice people to come here at this early stage in our development." 
 
But analysts say that the difference lies in the level of transparency, which "simply doesn't exist in Saudi Arabia," Chadwick explained to CNN.
European soccer governing body UEFA has financial fair play (FFP) rules on teams' spending, while Major League Soccer in the US has a salary cap for its clubs.
Nohra told CNN that, eventually, the country wants 0.3% of its GDP to be from soccer to make it similar to that of the Premier League on the UK economy – up from its current value of "0.000 something."
"They've got no chance to get into that figure at present," Maguire explained, but added that the SPL could perhaps move into the top 10 of the world's domestic leagues.
"That is feasible given the amount of money that they're spending."
"I think they're realistic. They don't say that they're going to overtake La Liga or the Premier League or the major European leagues," Maguire said.
When the Peterson Institute for International Economics compared the world's sovereign wealth funds on criteria including governance, transparency and accountability in 2019, the PIF scored well below average on a measure combining these criteria, and ranked in the bottom 10 out of 64 funds, just above Russian Direct Investment Fund.
CNN has reached out to the PIF for further comment about its investments in sport, particularly soccer and golf, and criticisms about its lack of transparency.
Chadwick raised concerns over how a lack of financial rules affecting Saudi clubs might dilute UEFA's FFP regulations, as well as those of the Premier League, or impact world soccer governing body FIFA's systems of governance.
The lack of transparency in Saudi Arabia's wealth fund has already raised suspicions in the US golfing and political spheres. Earlier this summer, the Senate Permanent Subcommittee on Investigations launched an inquiry about the PGA Tour's agreement with the PIF-controlled LIV Golf.
Chadwick told CNN that, so long as there is no independent organization that monitors the reporting of every league's financial endeavors, "nobody really knows for sure what the accurate financial information is."
"This vacuum [of information], this uncertainty is wrapped in a veneer of lobbying, which is intended to either overinflate or underinflate player transfer values and salary information because it serves a political purpose," Chadwick says, adding that this purpose is "signaling."
"It is almost as though football players are becoming kind of geopolitical pawns in some ways."
CNN's Chris Isidore, Eoin McSweeney, Eleni Giokos, Andrew McNicol, Tamara Qiblawi and Andrew Raine contributed reporting.