It was a tantalizing reveal, the lid of a pizza box being flipped open to show Lionel Messi's Friday night dinner – a freshly baked pie. But in that moment, some of his many fans completely lost their appetite.
It wasn't his choice of toppings prepared by the Argentine Banchero restaurant in Miami that caused their stomachs to turn – for the record it was eight green olives and some onion rings arranged on a full bed of tomato slices, apparently without cheese – it was the timing of his social media post.
"I opened Instagram and I saw Lionel Messi's story of him eating a pizza in Miami," the football fan Rishi Trivedi told CNN Sport, "so I got kind of confused. Like, wait, did he not travel to Atlanta?" added Trivedi, referring to Atlanta United's Major League Soccer (MLS) game against Inter Miami on Saturday.
By the morning, Trivedi's worst fears had been realized. "I couldn't sleep well," he said. "I woke up at 8 a.m. and I found out that he's not playing. I care about him; he's still my favorite player, but I'm kind of disappointed."
His friends spoke of their heartbreak, and Jenil Patel also had some critical words about Messi's taste: "I must say, if you're going to eat pizza, at least get some better pizza!"
It wasn't just the fans who were trying to digest the news of Messi's absence; Inter Miami's opponents learned about it from social media. Atlanta United's coach Gonzalo Pineda told reporters: "Well I checked their Twitter account [now X] to see if he was playing, and I saw a pizza with tomatoes."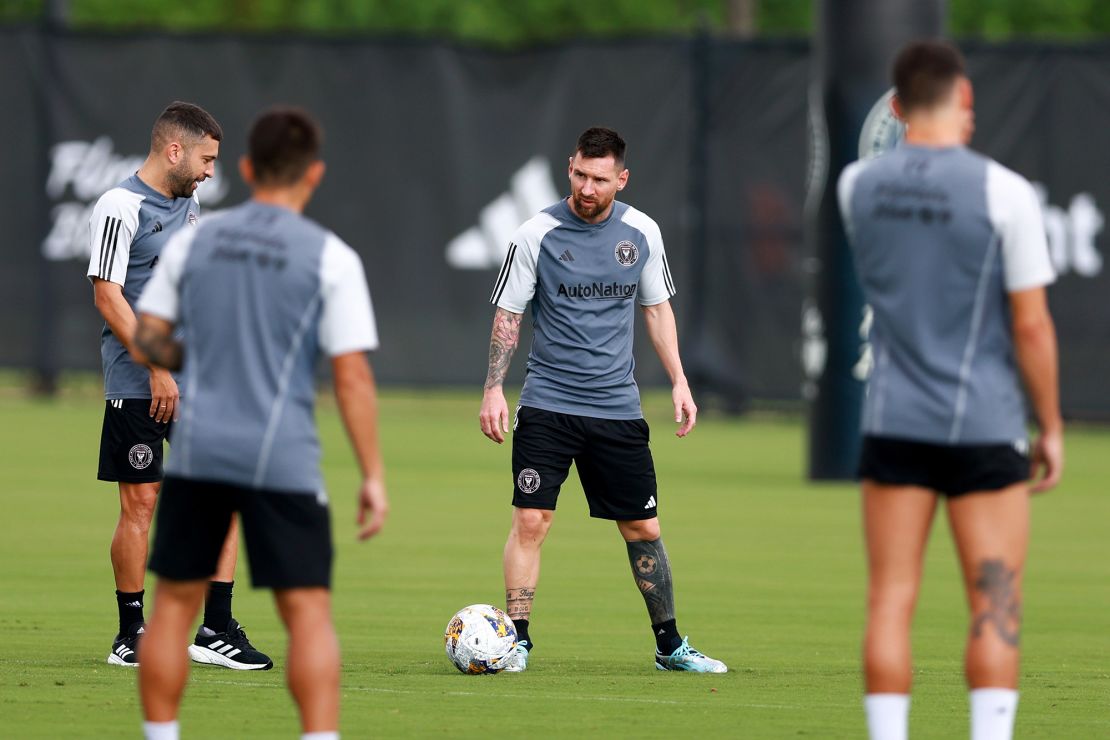 Ticket frenzy
From the moment that Messi confirmed he would be moving to the United States in July, MLS fans all over the country began checking the schedule for opportunities to see him play and, for many, the away game against Atlanta United seemed like a good bet.
The Mercedes Benz Stadium can hold over 70,000 fans, and United quickly announced they'd be making all the seats available for sale. The minimum price was $125, and it wasn't long before some of those tickets were being resold on secondary markets for well above face value.
Messi's explosive impact only fueled the excitement further; in his first 11 games for Miami, the 36-year-old had scored 11 goals and helped his new team to victory in the Leagues Cup, their first-ever trophy.
He played in every game that he could have, missing only a home win against Sporting Kansas City, but that was because he was on international duty with Argentina, and not even the great Messi can be in two places at once.
The only reasons to think that he might not play in Atlanta would be either injury, or a concern about the stadium's artificial pitch.
However, in Messi's first media conference on August, the 36-year-old said he was fine with turf, and so the expectation continued to build that he was coming to Atlanta.
As fans began streaming through the gates at 3 p.m. on Saturday afternoon, many had already accepted that he wasn't coming, although some didn't believe it, and others were distraught.
Angel Galdamez said he paid almost $2,000 for three tickets, three weeks before the game.
"I feel bad," Galdamez told CNN. "I'm working hard for my money." His friend, Irma Lopez, said they'd only come to see Messi. "I want to go home right now," she lamented, "because we just came for him."
What these fans found particularly galling was that the value of their tickets had by now crashed to as little as $40.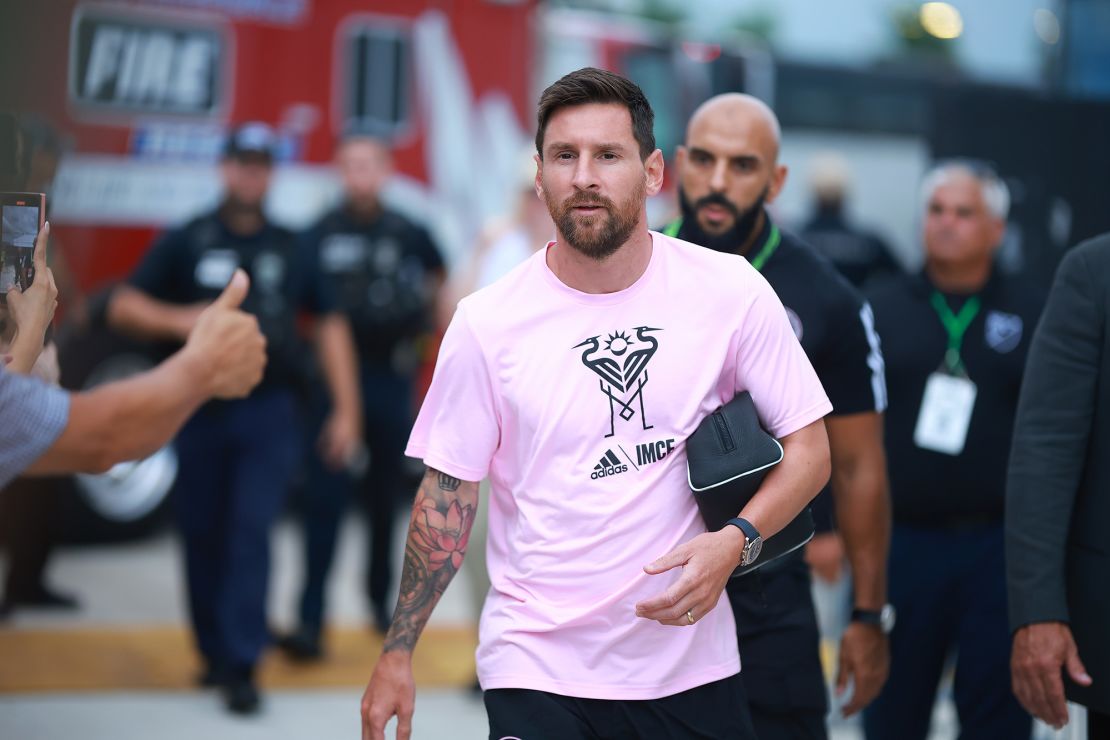 'He's like a God'
It's always news when the biggest stars take the field, but it's also big news when they don't play at all. Even when he was over 600 miles away, Messi still managed to steal the show.
His club told CNN that he was being rested due to the number of minutes he'd played since arriving in Miami, noting that the artificial pitch wasn't a factor. But some fans asked why he couldn't have at least made the trip; they said that they'd have been happy just to see him, even if only for the briefest of glimpses.
"I wish he'd been able to at least come, and we'd seen him in person, even if he was on the bench. Seeing him would have made the money worth it, because he's like a God!" Rohan Jhanjee told CNN.
It would be hard to overestimate Messi's impact on the game in North America since his arrival.
MLS had already been expanding rapidly and in just three years the continent will be co-hosting the World Cup. But Messi's arrival has raised the MLS's brand to a new level.
The iconic forward led Argentina to its World Cup triumph in December, and he's now the hottest ticket in Miami, with celebrities like Leonardo DiCaprio, Prince Harry and Selena Gomez flocking to see him.
His impact has been so profound that some Atlanta season ticket holders even switched allegiance for the day, wearing pink Inter Miami shirts with Messi's name on the back.
"We're thankful for the fact that he's here in the US," Lacey Hunt told CNN. "When Messi and Miami are not in Atlanta, we're Atlanta United fans."
Throughout the day, fans wondered whether Messi should have been present at the game, and also whether the club or the league had any obligation to warn fans that he might not make it.
Most that CNN spoke with understood that coaches need to put the interests of their players and their team above all else; soccer is still primarily a competitive sport in the world of entertainment.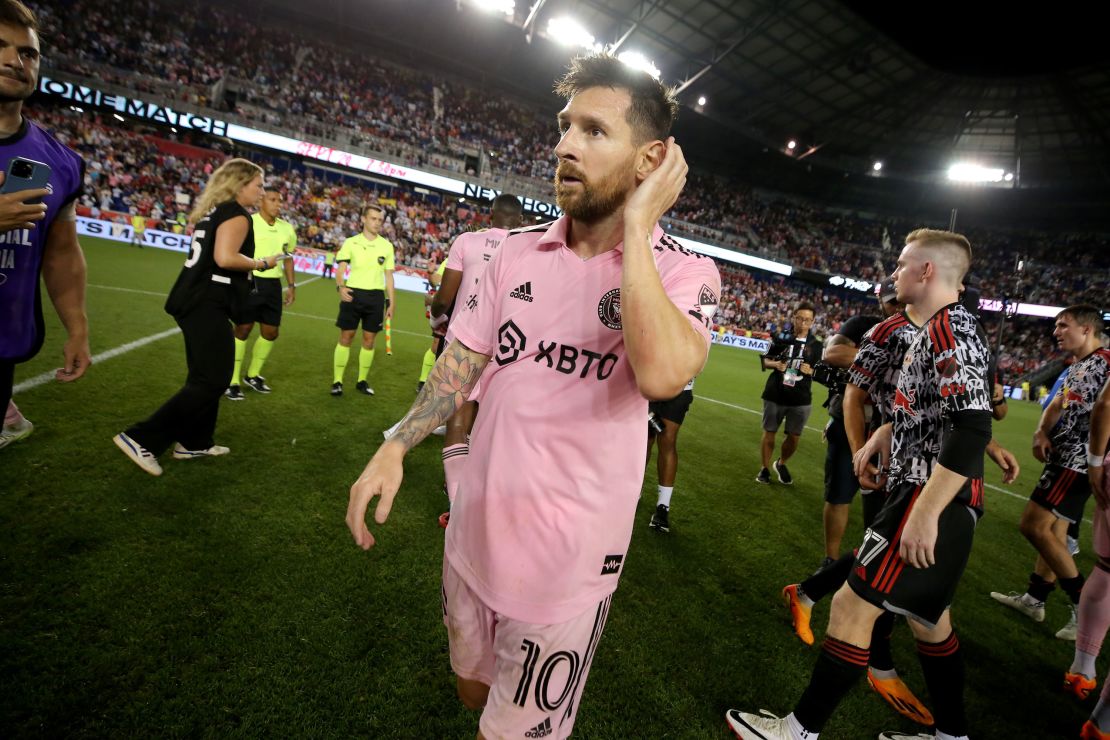 Big red L
Messi had already played in 12 games since the third week of July, and Miami are about to embark on a grueling schedule involving six games in just 18 days. The US Open Cup final against Houston at the end of September is one of them, a chance for another trophy.
By the time Messi plays again, he'll have been rested for almost two weeks, and Miami will hope that it was worth it.
They must also hope that his absence from a crucial league game wasn't too costly. Atlanta won the game 5-2, Miami's first defeat since Messi's arrival, leaving the team second to last in the Eastern Conference.
For MLS, it might also have been a missed opportunity to showcase their product in a time of year when many American sports fans are more interested in the other kind of football as Messi would have been playing in front of one of the biggest crowds he'd have seen since the World Cup final.
Atlanta United weren't complaining though, and their social media team had the last laugh, posting their own image of a pizza on their social media feed. They'd used Messi's same toppings on a dough base, but the tomatoes had been rearranged to form a big red L.
Eat that!