For many, wanderlust is a perpetual state of mind. But the key to traveling with ease is finding luggage that can withstand the trials of your journey — think being thrown into Uber trunks, hauled up escalators, dragged down cobblestone streets and being catapulted on and off baggage claim carousels.
As the effects of climate change continue to worsen, for many of us, investing in companies that are devoted to sustainability is a key requirement to consider when looking for new luggage. Enter Paravel. Launched in 2016 by co-founders Andy Krantz and Indre Rockefeller, the luggage brand was created with sustainability in mind. Two years later, after visiting Antarctica and witnessing the devastating effects of climate change for themselves, the duo became laser-focused on running a company where eco-friendly efforts are a core value and not just marketable features added as an afterthought.
"It really came down to a shift in perspective — turning sustainability from being a priority to being the priority," said Rockefeller. "Every decision we made from that point forward was made through that lens."
Now, the brand continues to bring its eco-first mission to travelers. "For us, the necessity of putting sustainability at the forefront of all of our decisions as a brand is clear: We must protect the health of our environment so that there is an environment left to explore," Krantz told CNN Underscored. "Sustainability is at the core of every decision we make at Paravel. We are a purpose-driven company working every day to catalyze change across the industry and create a net positive impact on the environment."
What makes Paravel different from other brands?
Since Krantz and Rockefeller's illuminating journey to Antarctica, Paravel has focused on three core tenets for producing its luggage: Reducing and offsetting carbon emissions, incorporating upcycled and eco-certified materials throughout every product and planting trees in depleted ecosystems.
"We are proud to be at the vanguard of a sustainable travel revolution, creating top-quality travel goods with a timeless aesthetic, exceptional functionality and forward-thinking sustainability," said Krantz.
How's the brand doing? As of April 2022, Paravel says it has offset 16,853 tons of carbon dioxide (that's like removing 2,663 cars from the road for an entire year), upcycled more than 4.7 million plastic bottles and planted more than 170,000 trees with the Eden Reforestation Projects (enough to fill 850 acres of the Amazon). And in July 2021, the brand earned its Climate Neutral Certification, confirming that Paravel not only accurately measured its carbon footprint and offset 100% of it, but that the brand is also committed to offsetting any future emissions.
Another detail that highlights just how different Paravel is from its competitors is the brand's commitment to ethical manufacturing. Through its Code of Social Responsibility, Paravel holds its partners accountable to stringent guidelines regarding labor, wages, safety and environmental standards. "Because sustainability is about so much more than just using the right materials or getting the right certifications, we fold social issues like workers' rights and environmental justice into our sustainability ethos," said Rockefeller.
While Paravel focuses a lot of its sustainability efforts around carbon offsets (a practice that has its detractors), right now, the brand is looking forward and immersing itself in sustainability's big picture. "We are focused on initiatives that go beyond neutrality and offsetting harm, and instead create a net positive impact," explains Krantz. "We're on a mission to ensure the planet is better off because of Paravel's existence." Paravel's future projects will include things like fully plant-based leathers, product refurbishment and next-generation recycling programs.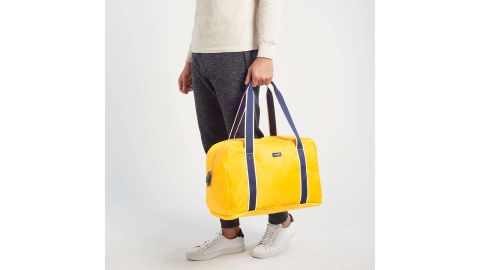 What makes Paravel luggage sustainable?
Today, Paravel offers everything from luggage and totes to packing cubes, passport cases, foldable backpacks and more — all of which are made from recycled and upcycled materials that are thoroughly vetted and certified by the industry accountability stalwarts Oeko-Tex Standard 100, Global Recycled Standard and Cleaner Leather.
Yes, that can sound like a lot of hogwashy jargon, but when you really start dissecting the sustainability factor of each Paravel product, you'll discover that everything from the hard suitcase shells and zippers to the telescopic handles, vegan leather trims and interior linings are all made from recycled materials.
One of the brand's biggest achievements thus far? Creating Aviator, the first-ever line of carbon-neutral suitcases. In other words, Paravel offsets each suitcase's carbon dioxide emissions generated from sourcing, manufacturing, freight, delivery and — this is the detail that really got us — the customer's average first trip using the luggage.
Summing it up, Krantz said, "We believe the best product for a customer's needs should also be the best product for the planet's."
Is Paravel worth it?
Listen, we get it. Sustainability is more important than ever, but a product has to look good and feel good to make it worth the investment. And trust us, Paravel's gear is up to snuff. Like something Grace Kelly herself would have traveled with, all of Paravel's pieces we've tried — from the rolling carry-on bags and checked suitcases to the luggage tags — are luxury items that will put a pep in your traveling step as you head out the door on your next trip.
What truly makes the brand stand out is its timeless aesthetic. Each product is chic and durable. And in case you thought the products couldn't get any fancier, we've got more news: Nearly everything Paravel offers can be customized with a foil, embroidered or hand-painted monogram.
Sure, the price point might be higher than some of the bargain-basement Amazon options out there, but given Paravel's enduring focus on sustainability, we think it's well worth the extra few bucks. Check out our top Paravel picks (and why we love them!) below.
Meet the first-ever carbon-neutral suitcase to grace our planet. Available in three size formats — Carry-On, Carry-On Plus and Checked Luggage — the Aviator not only comes with its carbon dioxide emissions offset by the brand, but it's also chock full of luxe features. Case in point: A recycled vegan leather trim accents the top and bottom of the suitcase's hard shell, which is made from recycled water bottles, and it also wraps the telescopic handle, creating a cohesive overall look that — combined with the suitcase's ribbed middle section — is utterly chic.
We tested both the Carry-On and the Checked Luggage (the smallest and largest formats) and found both were highly functional, delivering a smooth experience thanks to 360-degree double-spinner wheels that were adept on airline carpets and uneven sidewalks alike. The interior's structured compartments (including one zippered section and one buckled with a firm luggage sleeve) made for a really organized packing experience, and the TSA-approved lock brought peace of mind. All in all, the Aviator is a piece of luggage that delivers on its promises of sustainability, form and function, and we're not mad at the five-year warranty it comes with either.
We also tested the checked bag when we set out to find the best overall hard-shell suitcases, and while it didn't end up getting one of our top spots, it was a frontrunner throughout testing and one of our favorite options we tested.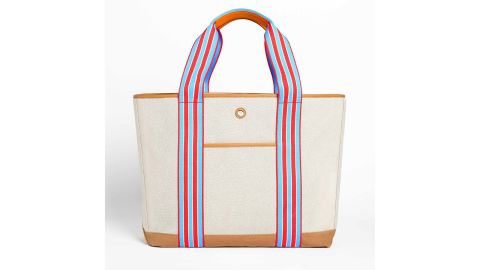 Paravel's No. 1 product is this Large Cabana Tote, which has sold out seven times and earned itself a spot among Oprah's Favorite Things list in 2020. As of November 2021, the tote became Paravel's second completely carbon-neutral product, thanks to the brand offsetting the emissions associated with sourcing, crafting and shipping it.
Made from 30 recycled water bottles, the bag is a perennial fan favorite for good reason — it's equal parts form and function. Sleek enough to tote to the country club or a ladies' lunch, the Cabana Tote comes in four contrasting colorways and has wide striped straps, recycled vegan leather trims and a chic canvas exterior. And when it comes to usage, it's incredibly efficient, featuring a water-resistant interior (also making it a great pool or diaper bag!), pockets galore and tons of volume, which can be offset by those aforementioned extra-wide straps, making for comfortable weight displacement. And that exterior canvas is totally spill-proof, thanks to a protective silicone coating that is simultaneously environmentally gentle and is even adept at repelling red wine.
We also love that the bag comes in two additional sizes, can boast an embroidered or hand-painted monogram and that it can coordinate with all of the Cabana collection pieces — from zippered pouches to passport cases and more.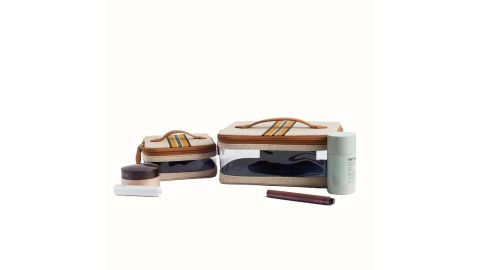 Fear not, Paravel has a stylish travel solution for all your stuff thanks to this catchall vanity case. While we'd like to say that it's the ultimate makeup bag — and trust us, it is, thanks to its wipeable interior fabric — upon putting the See-All Vanity Case to the test, we also found it was great at corralling everything from wipes and tweezers to travel shampoos, jewelry, sleeping masks and scrunchies.
Design highlights include the clear "view window," which lets you peek inside without actually unzippering the case, and the top handle, which allows for easy transportation. Performance aside, the See-All is just a beautiful and bright product to own. It looks gorgeous on a countertop and we're obsessed with the bright stripe options (this product is also available in the same four Cabana Tote colorways) and the fact that it's made from recycled water bottles and recycled vegan leather.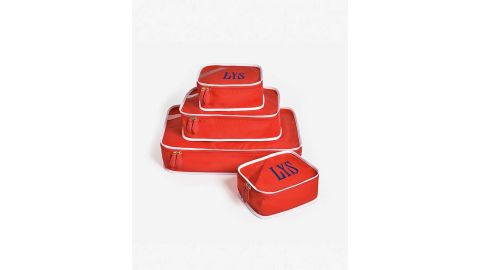 There are packing cubes, and then there are Paravel's packing cubes. Made of the brand's intrinsic negative nylon fabric that is super lightweight, satin-like to the touch and water-resistant (not to mention made 100% from post-consumer plastic water bottles), this set of four cubes will whip your packing routine into shape in an instant.
Key details include the view window that allows you to see inside without unzipping, and the fact that all four of the cubes — the set includes two small, one medium and one large — are machine-washable and can fold flat inside each other when not in use. Probably the best detail, however, is that if you opt to customize the cubes, they bear oversized embroidered monograms that clearly state who their owner is.
Perhaps the most genius product on its roster, Paravel's foldable backpack is a traveler's dream. Weighing less than a pound, the backpack folds completely flat and can be stored in a dainty zippered pouch that can easily be tucked into your luggage or carry-on bag when not in use. And despite taking up almost zero space, when unfolded, the backpack is a roomy powerhouse with enough area for a change of clothes, a pair of shoes, snacks and even a 15-inch laptop.
Like the rest of Paravel's products, the backpack is eye-catching, with its satin-smooth negative nylon exterior and wide, striped straps that make for an elegant contrast. Available in six colors — from a bright yellow and punchy red to a soothing dark green — the backpack is made from 15 upcycled plastic water bottles, has a sturdy trolley strap for easy transport and can accommodate a three-letter monogram. A Fold-Up Bag and Mini Fold-Up Backpack are also available.
The Passport Case is a hero item, storing not only your passport (or cash), but also eight card slots for your credit cards, driver's license, insurance cards and more, making it a good travel wallet option, too. A slimmer and much sleeker version than your regular day-to-day wallet, the item is a great way to scale down what you're bringing on your trip.
If you want to show up in style, this is the bag to bring along for the ride. While it looks diminutive in size, the Weekender can actually accommodate two days' worth of clothes (potentially three, depending on the season). Plus, it can fit a pair of shoes, a vanity case and a laptop and still have room left over for a few other last-minute additions. Inside, the bag boasts a wipeable, water-resistant lining and two zippered pockets, while the exterior has a trolley strap and hooks that allow for over-the-shoulder or cross-body wear (yep, a matching, removable and adjustable strap is included).
A standout among other utilitarian weekender bags, the Weekender from Paravel is utterly elegant and efficient to boot. Available in two colorways (tan and black), the bag can also be outfitted with an embroidered or painted monogram or emojis. Best of all, it's incredibly durable, featuring a spillproof canvas exterior that will take the worry out of your travel day.
Looking for a travel credit card? Find out which cards CNN Underscored chose as our best travel credit cards currently available.