Spain won its first match since scandal engulfed its soccer federation following its triumphant campaign at the 2023 Women's World Cup, beating Sweden 3-2 in dramatic fashion on Friday.
The victory comes after a tumultuous month following former Royal Spanish Football Federation (RFEF) president Luis Rubiales' unwanted kiss on Jennifer Hermoso during the title celebrations.
Amid the ongoing fallout, La Roja found a way past Sweden in the UEFA Nations League game, clinching victory at almost the last possible moment as Mariona Caldentey scored from the penalty spot deep into injury time.
Earlier this week, 20 players named to the national team reiterated their refusal to play the game against Sweden.
After crisis talks, 21 of the 23 players selected agreed to play after the federation committed to make immediate changes to its structure.
Before the match, both teams held a banner that read '#SeAcabó' which translates into English as 'It's over.' The banner also included the phrase, 'Our fight is the global fight.'
Spain's players also wore wristbands with '#SeAcabó' written on them.
England and Scotland players wore similar wristbands during their own UEFA Nations League game on Friday, once again displaying the solidarity among female soccer players that has been evident throughout the month-long scandal.
"At last we ended up playing. We went through some very difficult last few days, nights without sleeping, we are exhausted but we are not the type that make excuses," Athenea del Castillo said afterwards, according to Reuters.
"We came here, showed up and we fought until the end. Very proud of our team and how we delivered this win with heart and grit."
On the field, Spain and Sweden met in a replay of the Women's World Cup semifinal last month and it was Sweden who took the lead first after Magdalena Eriksson headed in a corner.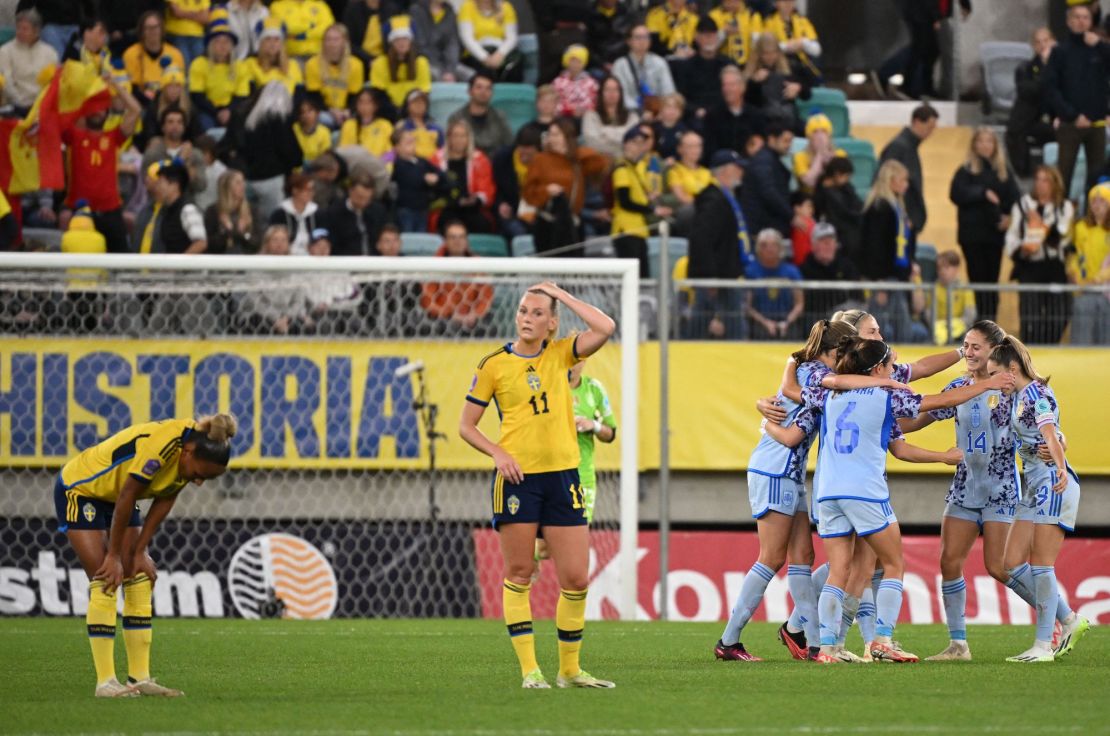 Spain equalized 15 minutes later when Del Castillo's speculative strike was fumbled by goalkeeper Zećira Mušović and deflected off her into the net.
Eva Navarro then gave La Roja a 2-1 lead as her powerful shot sailed high over Mušović's head, completing a flowing move that had sliced the Swedish defense wide open.
Sweden equalized through Lina Hurtig before there was late drama.
Amanda Ilestedt conceded a penalty in the 94th minute and was red carded for pulling back Amaiur Sarriegi when she was through on goal.
Caldentey made no mistake from the spot to give her team victory.
Away from the pitch, the turmoil within Spanish football continued as the RFEF announced the firing of its director of integrity on Friday.
No further information was provided by the RFEF on the decision.