Ahead of the Spanish national soccer team's first match since winning the Women's World Cup last month and the fallout from ex-soccer boss Luis Rubiales' unwanted kiss on La Roja player Jennifer Hermoso, star players Alexia Putellas and Irene Paredes spoke out on "systemic discrimination" within the country's federation.
"We have been demanding to be listened to for a long a time because we were detecting, or already knew, that over many decades, too many, there was systematic discrimination against the women's team," two-time Ballon d'Or Féminin winner Putellas told reporters on Thursday, according to Reuters.
Earlier this week, a dispute between the Spanish women's soccer team and the Royal Spanish Football Federation (RFEF) appeared to have reached a breakthrough after the two parties, along with the government's High Council of Sport (CSD), came to a series of agreements.
Having previously refused to represent the national team, 21 of the 23 players selected in the squad for the upcoming matches agreed to play and traveled to Sweden.
"They [the negotiators] told us that among the things they agreed to were to not sanction us, and then we made the decision to stay, not because we're exactly comfortable – all the things that happened a month ago, how they called us up to the squad – but we have stayed because we think it's what we have to do so that the agreements go forward and for this to go forward," said Paredes.
"Not only for ourselves, but I think we also have a responsibility for the Under-23 team. If we weren't here, very probably they would have called them and it's like passing on a bomb to people who have maybe less experience and it could get even more complicated," added the Barcelona Femení defender.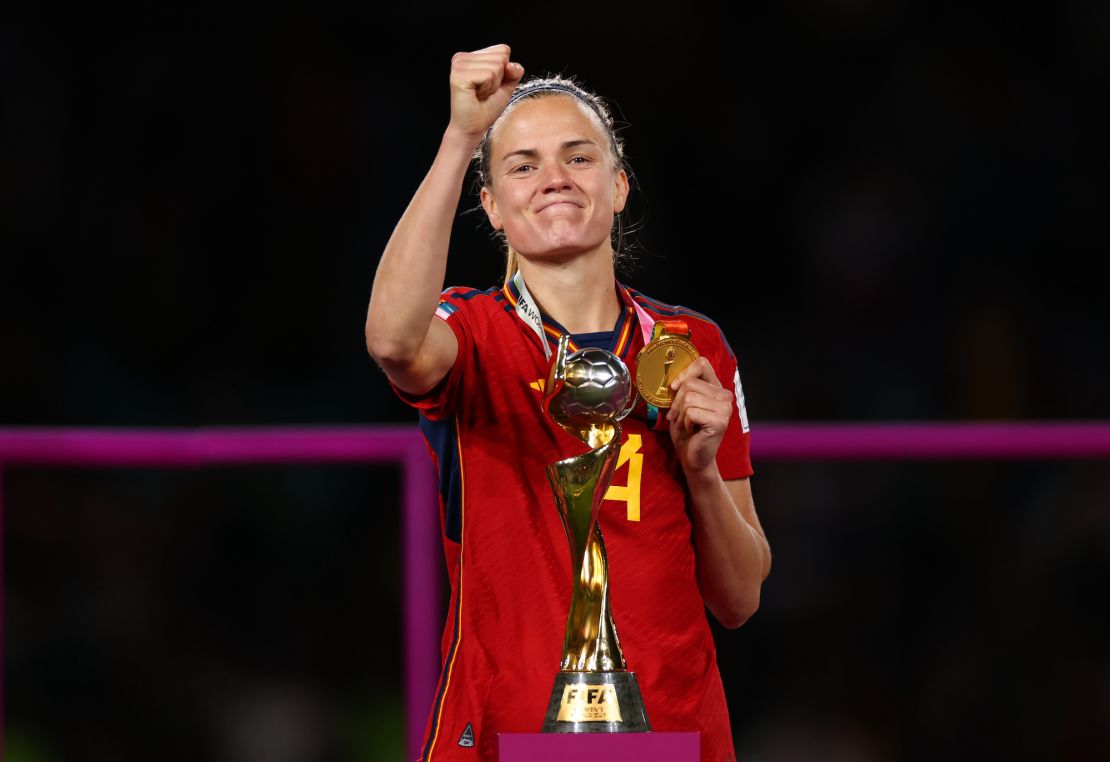 Earlier this month, former Spain coach Jorge Vilda was sacked from his role and was replaced by his deputy, Montse Tomé – the first female coach to occupy the position.
Putellas said that the players never asked for any coach to be dismissed.
"All we have done when we have been captains is transmit concerns or concepts where the team was not feeling completely comfortable," she added.
Tomé said on Thursday that she doesn't sense the players are not standing with her.
"As you know I have been in this position a short time," Tomé told reporters. "I am confident … I am confident in the job, I want this to be resolved, that is how it is, and we are keen to work. That's what we are."
Spain faces Sweden away in the UEFA Women's Nations League in Gothenburg on Friday.
"The only thing we want is to play soccer in dignified conditions where we are respected and right now, or until now, it hasn't been totally possible and after what happened in the final, totally impossible," defender Paredes added.
"So that is why we are trying and demanding that things change."
The changes within RFEF announced this week include: advancements on gender pay and equal pay; forming a Mixed Commission with representatives for the players, RFEF and the government's High Council of Sport (CSD); and a change in branding when it comes to the women's and men's national teams, referring to both simply as the "Spanish National Football Team."
RFEF also dismissed Secretary General Andreu Camps from his role which he held since Rubiales first ascended to the presidency in May 2018.
Two players, Barcelona Femení stars Mapi León and Patricia Guijarro, asked to leave the squad earlier this week, saying that their situation is "different than for the rest of our colleagues."
While Spain is getting ready to take on Sweden, the presiding judge in the Rubiales investigation on potential charges of sexual assault and coercion, Francisco de Jorge, has called on three of Hermoso's teammates to testify in the investigation, in addition to two defense experts who will look to support Rubiales' case.
Rubiales himself testified on September 15 and, according to Spanish prosecutors, denied all charges.